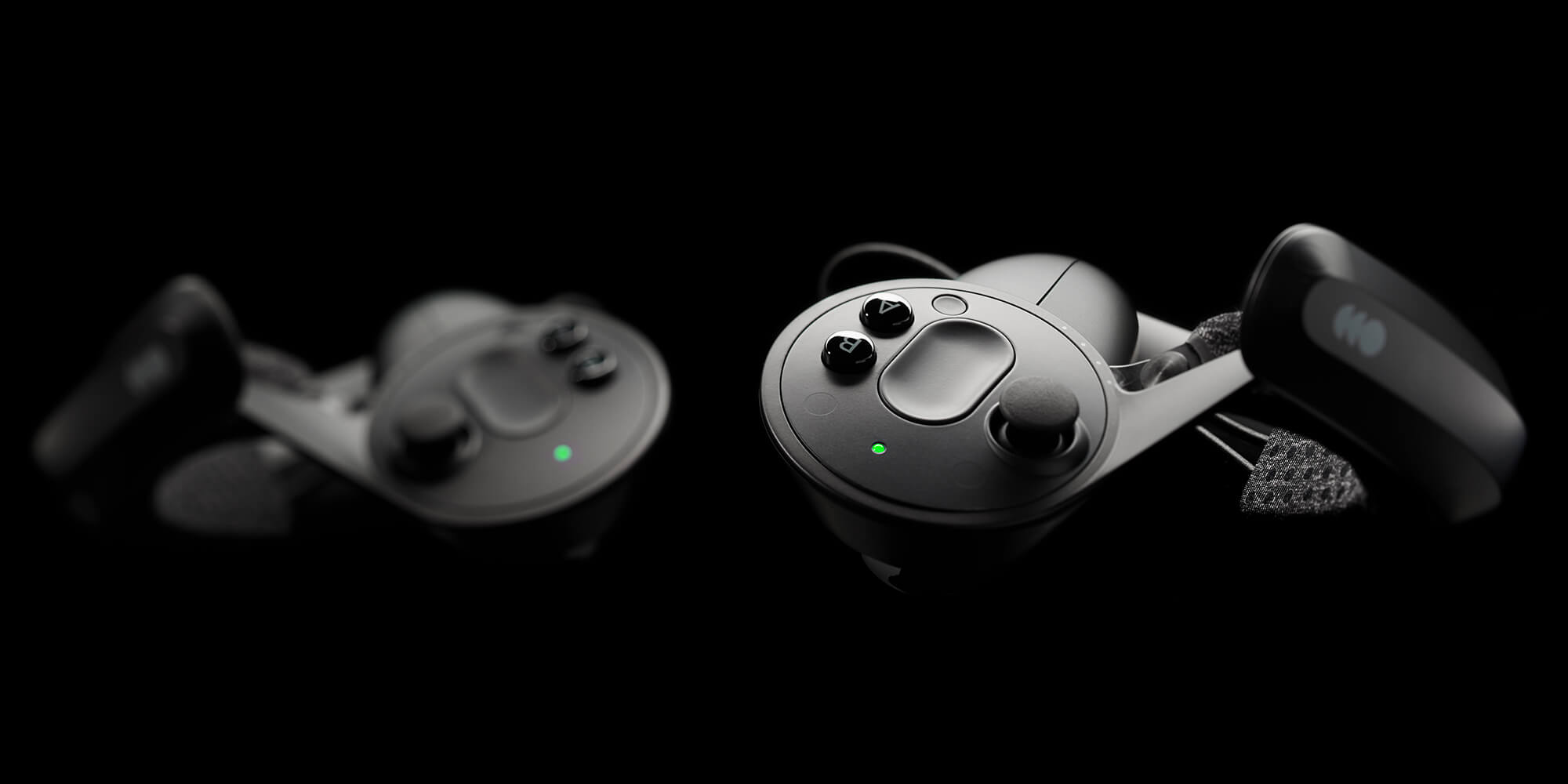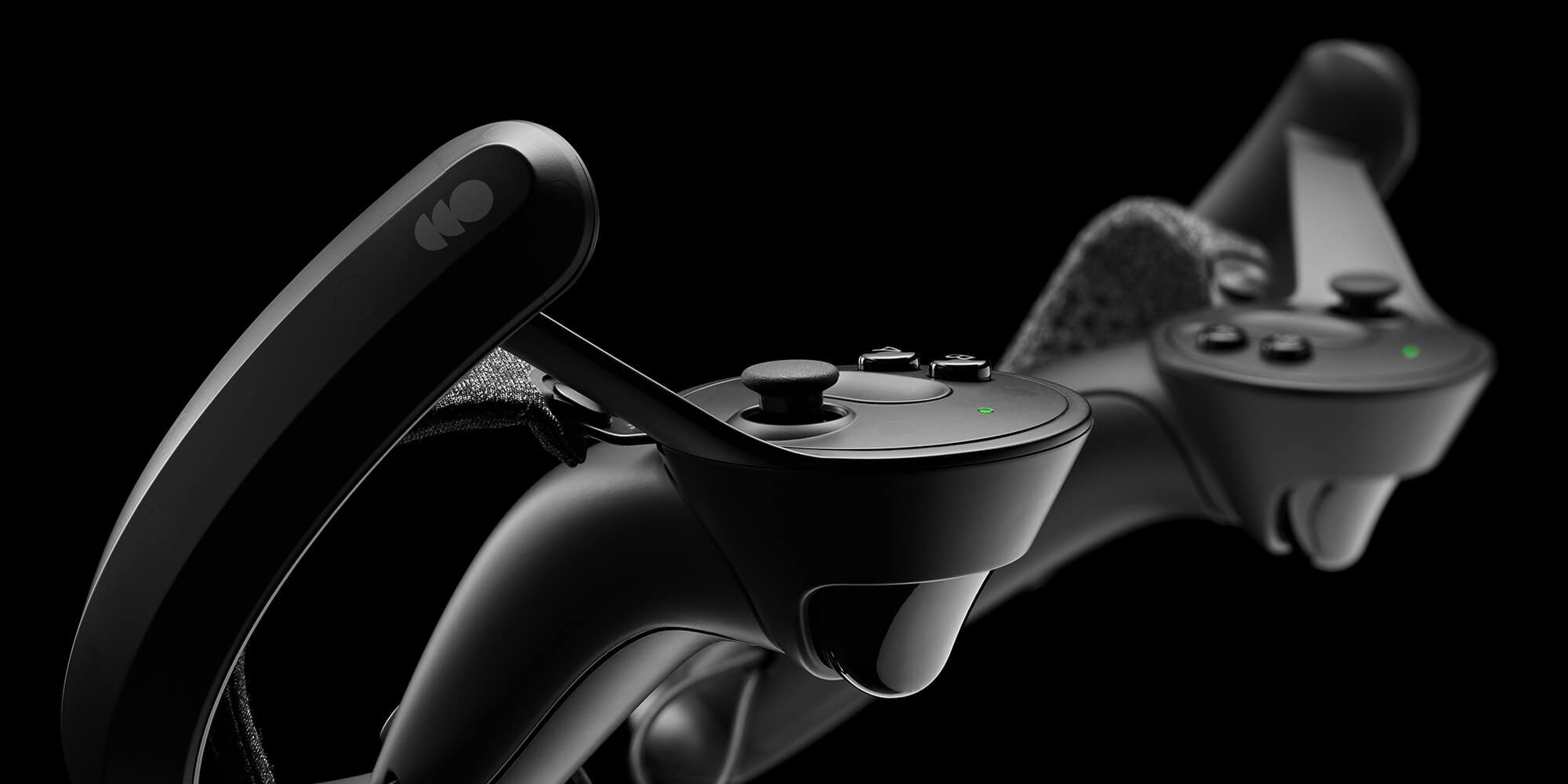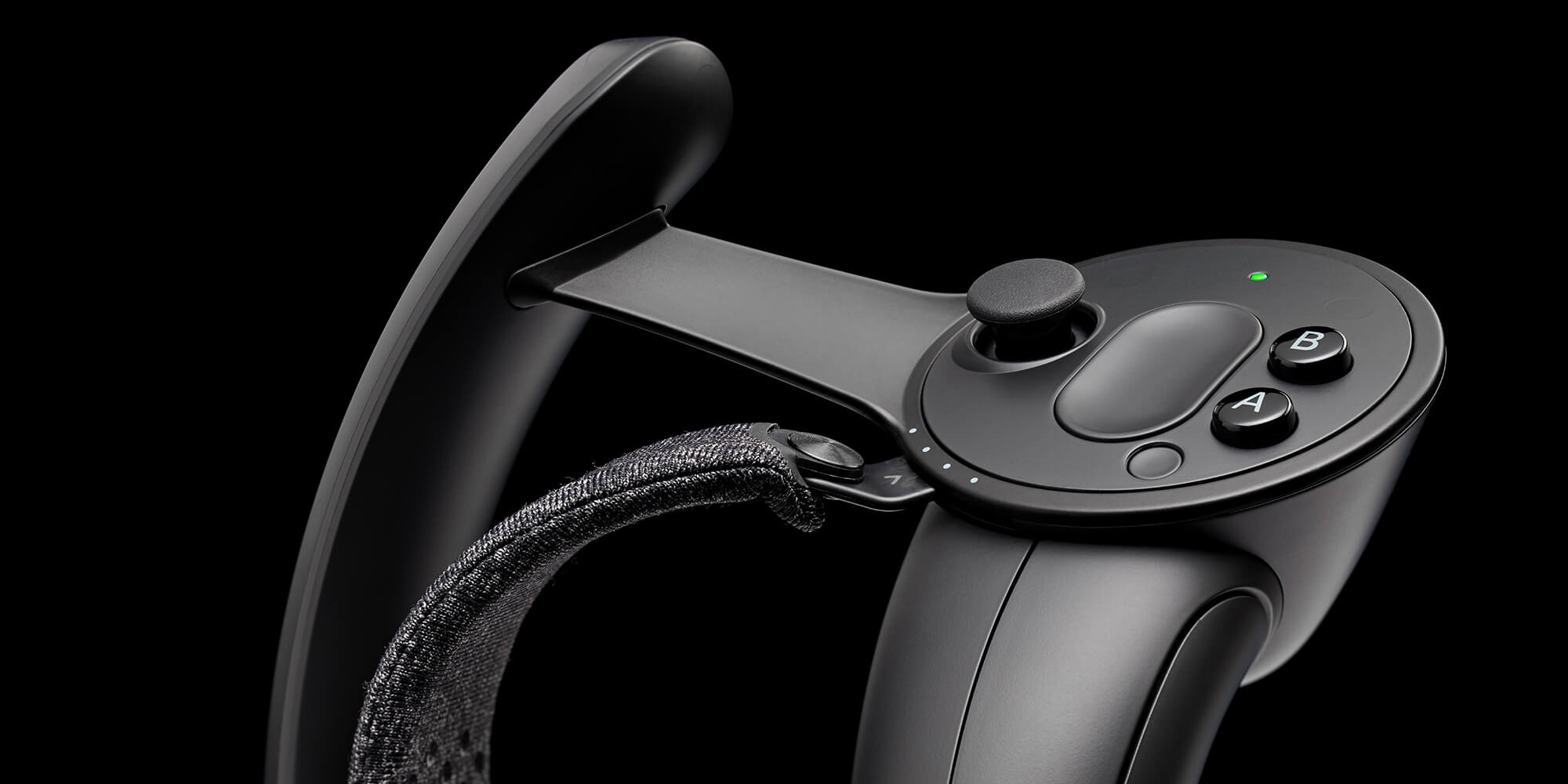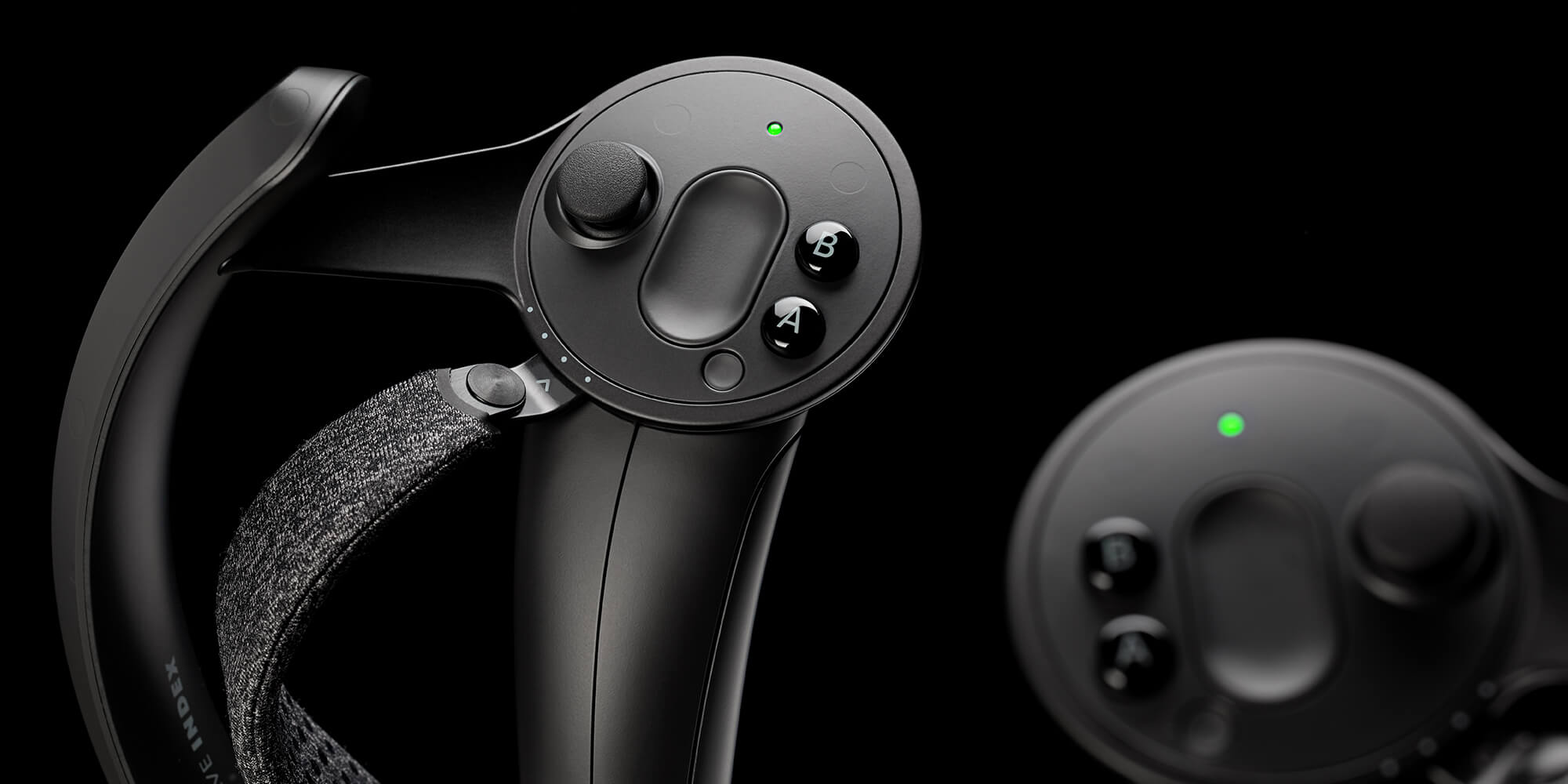 Controllers
Designed from the ground up to enable natural interactions, high-fidelity hand presence, and long-term comfort.
Interact with your environment, objects, and people just like you do in the real world. Valve Index® Controllers combine complex sensor inputs to give you smarter hands in VR, unlocking a wide variety of new interactions, experiences, and gestures.
Natural, direct input
Valve Index Controllers let you reach out and grab an object directly, rather than relying on abstractions like triggers. Hold up two fingers to make the peace sign, or drop objects by just opening your hand - just like in real life.
Sensor fusion
Each controller uses 87 sensors to track hand position, finger position, motion, and pressure to determine user intent. All of these signals, combined with fine-tuned software and algorithms, give us a better understanding of how a player is holding and using the controllers.
Throwing
Enabling natural and accurate open-handed throwing was a high priority for the team, and we used every sensor at our disposal. Optical and motion sensors provide velocity and trajectory, capacitive and force sensors help determine the intended release point, and our fine-tuned algorithms and software bring it all together into a usable input / output. The end result is an intuitive and natural-feeling throw.
Low-latency finger tracking fosters deeper immersion and a wide range of gestures and expressions. Every hand is different, so the controller constantly re-calibrates itself to match your hand size and changing skin capacitance.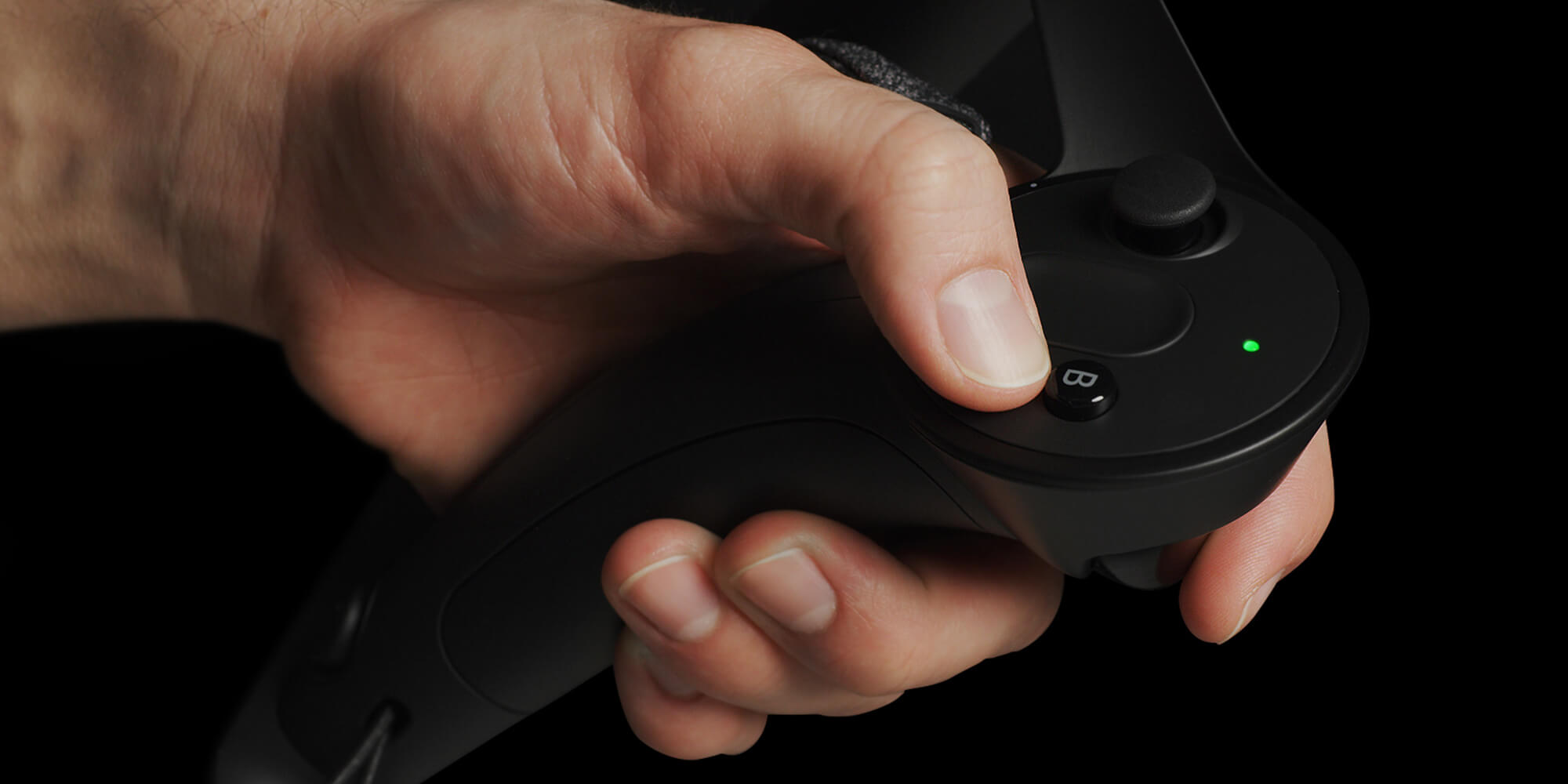 Adjustable and secure
Designed specifically for open-handed interactions and longer play sessions.
Open-hand interactions
The hand strap allows you to open your whole hand to drop or throw an object. This strap is easy to secure, and it adjusts at three points to fit a wide variety of hands - so you can focus on the game, and not hanging onto your controller.
Long-term comfort
Since these controllers are worn instead of held, during a play session you can take breaks - fully relaxing your hands because they don't need to constantly grip the controllers. As with all Valve Index hardware, the controller straps are made with an anti-microbial, moisture-wicking, and easy to clean fabric.
Steam titles
All VR titles will work great with the Index Controllers using standard controls by default. We have been working with the VR developer community throughout R&D and many developers have made updates to take advantage of the new controllers for launch.

Browse new and updated games for Valve Index.
Tech specs
Inputs
A Button, B Button, System Button, Trigger, Thumbstick, Track Button with Force Sensor, Grip Force Sensor, Finger Tracking, IMU
Ergonomics
Adjustable strap with pivot, antimicrobial tech fabric
Connections
USB-C, 2.4GHz Wireless
Charging
900mA fast charging, 1100mAh capacity Li-Ion polymer battery
Tracking
SteamVR 2.0 sensors, compatible with SteamVR 1.0 and 2.0 Base Stations